Fishing 2 Online
Fishing 2 Online is now out!! And it is even unblocked at schools.
Objective of this game save the fish and put it back where it belongs.
Or just bring the water back to him. But it is not that easy.
You always think for twice and each level is more challenging then the previous one.
This game does not include any element of violence.
CONTROLS
MOUSE FOR ACTİON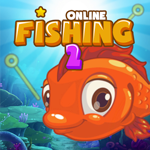 PLAY GAME