Empire Island
Make a detailed plan and build your war city.
You have to be ready when your enemies attack.
Calculate your moves and defeat your enemies in the unblocked strategy game.
Have fun!
CONTROLS;
Use mouse to build, aim, fire and cursor keys/A & D to scroll. Game also features many keyboard shortcuts.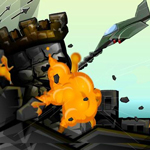 PLAY GAME