Stick War: Infinity Duel
Stick War: Infinity Duel: Moving platforms, weapons falling from the sky.
Your enemies are waiting for you. Grab your gun and aim at the enemy.
Kill him before he kills you. Remember, each weapon has a certain duration.
Catch them as the better weapons fall. For example, bazoka.
You can defeat the enemy in one move.
Play the fun unblocked 2-player fight shooting game with your friends at school,
have fun fighting the fun.
Hihoy Games wishes you a pleasant time!
CONTROLS;
Player 1: Move - Arrow Keys Shoot - L Key
Player 2: Move - WASD Keys Shoot - F Key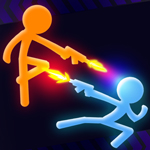 PLAY GAME