Greenlight Redlight
The survival streak of the Squid game continues!
Go through the green light and don't move at the red light!!
You must fight to complete the quests that come your way and win the grand prize.
To be the first in this 3D squid game,
You have to complete the levels very carefully and quickly.
CONTROLS;
MOUSE DRAG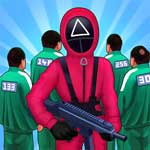 PLAY GAME