Fireboy and Watergirl 6: Fairy Tales
Fireboy and Watergirl are our indispensable passion, here is another new series.
Fireboy and Watergirl 6: Fairy Tales. You don't even need to tell me what you're going to do in the game.
Fairies in this game will help you even more.
Try to complete the chapters as soon as possible.
Play the game alone or with your friends at school.
You can play this free and unblocked game on our website.
Get plenty of fun!
CONTROLS;
Use AWD to move Watergirl, use the Arrow keys to move Fireboy, use your mouse to move the Fairies.
Complete all levels fast enough and grabbing all the diamonds to get a perfect score.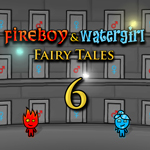 PLAY GAME