Survival 456 But It Impostor
Survival 456 But It Impostor is a combination of the 2 most favorite game genres.
Imposters are playing Squid Game games.
You have to play every game stage by stage and succeed.
Remember, my scary baby is spying on you in Squid Game.
Finish the games before you get caught by him.
You can find the unblocked game squid among us for free at the entertainment address.
You will have a lot of fun playing at school with your friends.
Get plenty of enjoyment!
CONTROLS;
Touch the player to move ϟ Run fast while the doll is counting ϟ Stand still when the doll turns its head ϟ Be one of the 5 people to finish first ϟ The game will end if you reach the finish line late and let the red light see you move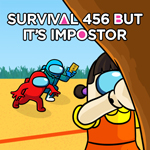 PLAY GAME