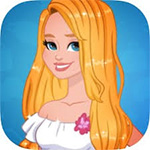 Girls Photoshopping Dressup
Girls photoshopping dressup, can you help two girls realize their dream of becoming a model? Ahead, you must complete a series of tasks set by the agency. Choose a variety of outfits to suit your chosen style. You earn money for every mission and photo you have successfully completed and you can buy new clothes, hair styles. You can choose the top and bottom of your models, hairstyles, accessories, jewelry. You must complete the previous one before you can continue the next challenge. So be patient and don't spend all your money at once!
Game Controls:
Use your mouse to choose an outfit.
Have Fun!