Healing Rush
You graduated and are now a doctor. Are you ready for your duties at the hospital? Get ready to run for the patients waiting for help in the hospital with the Healing Rush game!
What awaits me when I play Healing Rush?

Healing Rush is a 3D arcade game where tasks are waiting for you in a small hospital. Patients are waiting in line at the entrance. You have to go and carry them on stretchers. You need to take the medications he needs and start treatment. You have to grow the hospital with the money you earn after each patient. Multiply the number of stretchers, hire a nurse to help. Treat all patients together. You can accumulate the coins you have earned and add different departments to the hospital. An X-ray room or a large laboratory. The improvement of the hospital is in your healing hands. The patients are waiting for you exhausted. Help them out.

Who can play Healing Rush? Is it suitable for children?

Players of all ages who like clicking development games can play Healing Rush. This game is suitable for children and is not blocked.
Is the Healing Rush game played at school unblocked?

You can play with friends at home, alone, at school or on the street. If you are at school, do not forget to ask permission from your teacher. If you are at home, you will enjoy it much more if you play it after you finish your study. If you are on the street, go to a safe place.
What does Healing Rush get me?

It strengthens your reflexes. It strengthens your ability to make the right movements at the right time with fast movements when necessary.
How to play Healing Rush on the web and mobile?

If you are playing on the web, play with the help of the mouse.

Can I play Healing Rush online and for free on my computer?

Of course! You can play the game without having to download it. Play the game using your keyboard and mouse. It is much more pleasant to play in full-screen mode.
Patients in need of help and treatment are waiting for you in the Healing Rush game. Do not keep them waiting in line and try with all your might to cure them!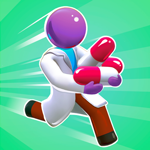 PLAY GAME