Horse Derby Racing
Horse Derby Racing is a fun racing game.
Compete with your friends in the unblocked game with the option of 1 or 2 players, or enjoy the fun when you are alone.
There are 7 different sections and the planet Mars are waiting for you in the game. As the chapters pass, the horses accelerate.
The fastest horse is the unicorns on the planet Mars.
Go on, start running!
CONTROLS;
Tap the LEFT / RIGHT ARROWS and A / D by turns to run.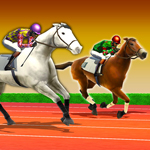 PLAY GAME