Knock Em All
Join hours of fun with the addictive game Knock Em All with realistic physics and simple gameplay. Focus on the target and boom! Let's try it.
What is waiting for me when I play Knock Em All?

Knock Em All delivers the action-packed 3d io game experience.
Load your weapon and wage war on the robots! You have to fight fiercely with robots coming running towards you! Fire the cannonballs from your gun. You have to hit it right. The game is very fun with real graphics. Join now!

Who can play Knock Em All? Is it suitable for children?

Players of all ages who like action and 3D io games can play Knock Em All. This game is suitable for children and is not blocked.

Is the Knock Em All game played at school without being unblocked?

You can play with your friends either when you are alone at home, at school or on the street. If you are at school, don't forget to get permission from your teacher. If you are at home, you will enjoy it much more if you play after finishing your study. If you are on the street, go to a safe place where you can relax and invite your friends to this unique race.

What does Knock Em All get me?

It strengthens their reflexes, increases hand-eye coordination and concentration. It strengthens your ability to make the right movements at the right time with fast movements when necessary.
How to play Knock Em All on web and mobile?

Movement: Mouse LEFT CLICK

Can I play Knock Em All online and for free on my computer?

Of course! You can play the game without having to download it. Play the game using your keyboard and mouse.
Even playing in full-screen mode is much more enjoyable.
Enjoy the action-packed 3D io game. Have a nice time!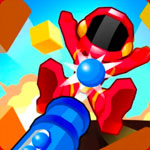 PLAY GAME