Little Dragon Adventure
The evil emperor has captured all the dragon eggs.
It is your job to save them. Don't let the enemies in front of you get in the way.
Kill them all and unlock the locks and get to the eggs.
Just click to enjoy the unblocked pixel game.
Have a pleasant time!
CONTROLS;
Move left/right: Arrow
Jump:Z
Shoot:X
Pause/Menu:P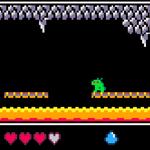 PLAY GAME