Noob Huggy Winter
2. It's snowing in Noob Huggy Winter, which has joined us with Dec series.
Don't miss this fun game. You will have a very good time at the Christmas entertainment.
There will be many obstacles in front of you in the unblocked adventure game.
Be careful and pass all the obstacles.
Have fun!
CONTROLS;
WASD" to move & "Arrow Keys" to move Mobile Touch Control Double jump is active in the game.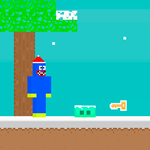 PLAY GAME