Pac Chef
Pacman is the indispensable Pacman game of Ateri games, with a different version of Pac Chef with you.
Collect all the gold and get the ingredients to eat. You need to escape from other chefs.
You will have a lot of fun playing the Unblocked Pacman game with your friends at school.
Have fun!
CONTROLS;
desktop: Use arrows to move the chef
mobile: Click arrow buttons to move the chef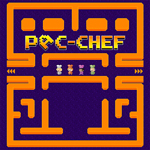 PLAY GAME