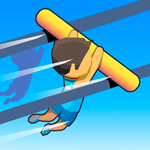 Rail Slide
New trend Rail Slide game is now available on our website.
Objective of this game is collecting bars to make your bar longer there are obstacles that cut your bar.
You have to keep your bar long enough to slide over rails.
This game does not include any element of violence.
And it is appropriate for you to play at school.
CONTROLS
HOLD AND DRAG MOUSE TO MOVE