Stick Shadow Fighter Legacy
How about a different journey with Stickman?
The controls in the game you are facing with a different style are a little different from other games.
In the unblocked action game bricks enemies and many more obstacles are waiting for you.
It's free for you to play with your friends at school too.
Have fun!
CONTROLS;
Use the mouse right click to jump or touch the game buttons on mobile devices.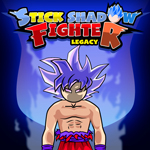 PLAY GAME