Super Drive Ahead
If you chose your car, should we start fighting?
Attack on top of your opponents in the arena, drive over them, you need to hit them for your life.
You can change your vehicles to become a winner.
Click here to play Super Drive Ahead unblocked action car racing game,
which you will love very much with more than 50 episodes,
with your friends at school for free.
Have fun!
CONTROLS;
Instructions: Use the keyboard arrows to move and spacebar to power. Use the game buttons on mobile devices.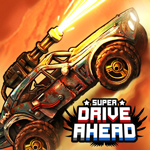 PLAY GAME