Warfare Area 2
The first series of the game played more than 1 million times in Y8 2.si he's out.
Here is Warfare Area 2. Grab your gun and kill your enemies.
Wander through the labyrinthine rooms and kill your hiding enemies one by one and become the winner of this challenge.
You can play the unblocked Warfare Area game for free on our site with your friends at home or at school.
Moreover, with the option of a computer, tablet or mobile phone.
Have a pleasant time!
CONTROLS;
Computer: Arrow keys or W,A,S,D to move the character. Mouse to turn the character, aim and shoot. L to lock pointer. R to reload. P - pause.
Mobile: Use on-screen joystick to move, fire button to shoot, tap and drag on right side of the screen to aim and turn the character.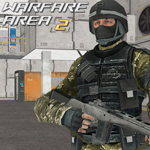 PLAY GAME