Alien Hunter Bros
Our world has been invaded by aliens.
2 Of our men are at work. You need to cooperate to catch the aliens.
One of you will stall him, the other will imprison him.
Shooting creatures and challenging obstacles are waiting for you.
You will have many hours of fun playing the unblocked 2-player action game with your friends at school.
Have a pleasant time!
CONTROLS;
PLAYER-1 Move: "W,A,S,D" Shot: "F" Hide: "S"
PLAYER-2 Move: "ARROW KEYS" Hide: "DOWN ARROW" Laser Gun: "J" Catcher Capsule: "K" Throw Trap: "L"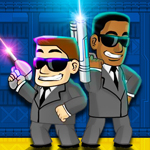 PLAY GAME