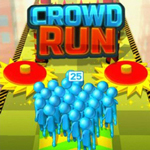 Crowd Run 3D
Crowd Run 3D is a fun platform game.
Try to raise the number while running fast.
Don't get stuck in the obstacles in front of you.
Get to the finish line as crowded as possible.
That's all you need to do. He is the wanted face of those who want to have a fun time.
Click on the unblocked and free game and let the fun begin!
CONTROLS;
all all control