Cube Craft Survival
With Cube Craft Survival, the newest of the craft games, the struggle for survival in nature begins.
Collect the supplies of your weapons for hunting.
Try to find every ingredient you see on the list by walking around the land.
Do not forget that there are wild animals on the land as well.
Good luck in a dangerous life challenge unblocked minecraft game!
CONTROLS;
Move : WASD or Mouse left Click Rotate Camera: Q and E Attack Nearest: Left Shift Take,Attack or interact : Mouse Left Click Action Menu or Cancel: Mouse Right Click Interact Nearest: Space Bar Zoom Camera: Mouse Scroll Wheel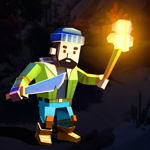 PLAY GAME