Dino Meat Hunt - New Adventure
Dinosaurs are in search of meat, cooperate with your friend and collect meat for the winter.
The little dinosaur jumps to high places, the big dinosaur destroys monsters.
Play this unblocked 2-player game with your friend,
pass the challenging levels and collect all the meat for the winter.
Have fun!
CONTROLS;
Big Dino: Move: "ARROW KEYS" Attack: "L" Little Dino: Move: "W,A,S,D" Double Jump: Press "W" double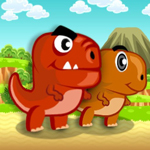 PLAY GAME