Extreme Mega Ramp Race : Ramp Stunt Car Games
Extreme Mega Ramp Race is available in our website now!!
In this super fun and exciting game you drive over ramps and accomplish levels.
There are numerous levels and each one of it is harder and more enjoy than previous.
This game does not include any element of violence.
And it is proper for play at school you can play it with your friends with permission of your teacher.
CONTROLS
WASD AND ARROW KEYS FOR DRİVE
SPACE FOR BREAK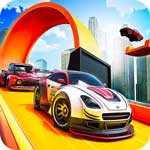 PLAY GAME