Family Farm
Those who dream of a farm, the Family Farm game is for you.
Sow your first october on your plot with the gold you have been given.
Decapitate the harvest and buy new plots and plants with the accumulated coins.
If you wish, you can earn money by selling your products.
Those who love nature and team planting, come on, don't stop click and start tapping the soil.
You can play this fun free oun unblocked.
Have fun!
CONTROLS;
Click the "shovel" button and choose a plot to buy it. Click the "dollar sign" button to sell crops. Click the "leaf" button to upgrade productivity. Buy seeds and special items in the shop. Click the crops once the production time is finished to collect golds. Click the "gift" button to visit the lucky wheel where you can spin to win prizes. Visit the game everyday to earn daily reward (an extra spin).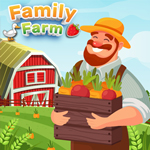 PLAY GAME