Human Vehicle
Get ready for fun with stickman.
Multiply as much as you can by paying attention on the track full of obstacles.
Collect the diamonds. As your number increases, you will see that you change from an engine to a car.
The more you are at the end of the trail, the easier it will be for you to get to the top.
You can play anywhere at home at school unblocked and for free.
Egence are good!
CONTROLS;
Tap to Start Slide to control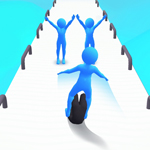 PLAY GAME