Hunter Assassin 2
Are you ready to go to war? The hunters are waiting for you.
Kill all the hunters who come across you without getting caught with the automatic weapons they have.
As an assassin, you will earn gold coins from every hunter you kill. Accumulate gold and stars.
The fight with the unblocked action game Hunter Assassin 2 begins.
Click and take your place!
CONTROLS;
Use the mouse right click to point the direction of the soldier, Touch the screen on mobile devices.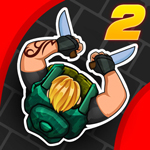 PLAY GAME