Impostor Among Us Vs Crewmate
Your task as Impostor is to kill all the creatures on the ship.
You have to be careful. Pass all the sections without getting caught and become the winner.
Those who love the unblocked cheongus game, click and let the fun begin.
Have a pleasant time!
CONTROLS;
Hold and drag to move around the ship, kill the crewmates, and sabotage the objects. - When you kill everyone without getting noticed, the level is completed. - Be careful with crewmate, they may discover you are The Imposter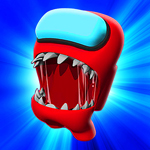 PLAY GAME