Metal Black Wars
Get down to the runway by helicopter! The battle begins with the Metal Black Wars game. Are you ready?
What awaits me when I play Metal Black Wars?
Metal Black Wars is a shooting game that is very enjoyable to play with its colorful visuals and effects.
In the action-packed shooting game "Storm Desert" "Mutant Lab" 3 different chapters called "Silent Forest" are waiting for you. There are 8 games in each section and 3 difficulty levels for each game. First of all, you can play in the NORMAL option. HARD and CRAZY appear in front of you with a lock. First you need to complete the NORMAL Mode. And here the START button is ready! Click and make your coolest landing by helicopter. Intimidate your enemies. You have to shoot at the enemies who come running towards you. You have a powerful weapon in your hand. Every enemy you kill will earn you gold. Collect all the gold. With the gold you have accumulated, you can buy new weapons and features. When a large number of enemies attack you, your weapon may become insufficient. Throw the grenade and kill all the enemies in that area. Collect the burgers that appear so that you can recover the energy you spent. Watch out when at the end of the episode the vehicle that passes through the sky and launches missiles incessantly appears! You have to destroy the vehicle by dodging missiles.
Come on, do your duty! There is plenty of action and excitement in the Metal Black Wars game! If the game you're looking for is an immersive and exciting game, it's right here!

Who can play Metal Black Wars? Is it suitable for children?
Players of all ages who like shooting games can play Metal Black Wars. This game is suitable for children and is not blocked.
Is the Metal Black Wars game played at school unblocked?
You can play with friends at home, alone, at school or on the street. If you are at school, do not forget to ask permission from your teacher. If you are at home, you will enjoy it much more if you play it after you finish your study. If you are on the street, go to a safe place where you can relax and invite your friends to this unique race.
What does Metal Black Wars bring me?
Strengthens reflexes, improves hand-eye coordination and concentration. It strengthens your ability to make the right movements at the right time with fast movements when necessary.
How to play Metal Black Wars on the web and mobile?
Movement: WASD/Directional Keys
Attack: J/ Mouse Left Click
Jump: SPACE Key
You can also play by clicking on the control buttons on the screen.
Can I play Metal Black Wars online and for free on my computer?
Of course! You can play the game without having to download it. Play the game using your keyboard and mouse. Even playing in full-screen mode is much more enjoyable.
Excitement is at its peak in the game Metal Black Wars. Show everyone the power of the metal man!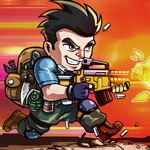 PLAY GAME