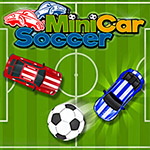 Minicars Soccer
More Football Game
Get On Google Play Store
https://play.google.com/store/apps/details?id=com.hihoygames.PillSoccer
Want to play football in an enjoyable car with cars and balls with different features? You can fight against your computer or against your friend. There are 7 different car models in the game; The speed and control of the vehicles vary according to the models. Besides, you can choose from large, medium and small options as a ball. As the size of the ball in the field becomes smaller; Because the ball control will be more difficult, we recommend you to choose the "Large" top model in the first matches. During the game, 3 different bonuses that occur in the field; you can take advantage of your opponent in a difficult situation. In the game, the first to score 5 wins the game.
Game Controls:
Player 1 : "W, A, S, D"
Player 2 : "Arrow Keys"