Run Of Life 3D
Your life flow is in this game. What kind of person do you want to be.
In order to be healthy and dynamic for many years, there are vitamins, creams, etc.
That come out in front of you on the track. collect the products.
Stay away from dangerous and harmful things.
Try to stay young all the way through.
At the end of the episode, a long age ladder awaits.
Let's see if you can get up the stairs and get to the last bank.
You can play unblocked 3D game for free. Enjoy!
CONTROLS!
Click or tap to control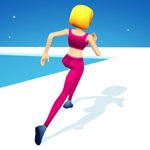 PLAY GAME