Squid Battle Simulator
A game where you will demonstrate your tactical skills: Squid Battle Simulator.
They are waiting for you in front of your opponents, ready for battle.
Face your large Squid army, study their positions and position your men accordingly.
You have to show all your skills in the unblocked game.
Make your plan well to survive. You can also play the free game with your friends at school.
Have a pleasant time!
CONTROLS;
WASD + Right mouse button (hold down) - standard movement WASD - alternate movement Shift - speed up the movement Q / E - rotate the camera Left mouse button - create a unit Right Mouse Button + CTRL - delete Unit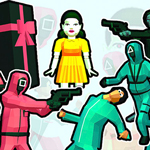 PLAY GAME