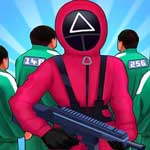 Squid Game Green Light Red Light Hints
Invite to Squid Game. Invite a fair game of red lights, green lights. Whoever wins this game will get a huge cash prize. Stop at the red light.
Continue at the green light. Follow the little girl's head movements! Take your time and be very careful! Time is running out..
CONTROLS:

MOUSE LEFT CLICK AND DRAG