Squid Sniper Game
The Squid Sniper Game craze continues.
Green light red light game has been reinterpreted.
This time it's not the competition, it's the hitting side.
Detect those who are moving and hit your target without being surprised.
If you hit the wrong person, you will lose points.
Try to earn the highest score at the end of the game.
This game, where you can also compete with your friends at school,
is free and unblocked on our website. Have fun!
CONTROLS;
Mouse lock/unlock = L, Sniper moves = Mouse, Zoom = Right click, Fire = Left click, Zoom in/out = Mouse Wheel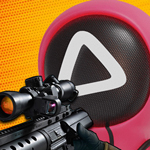 PLAY GAME