Stick Archers Battle
The bow wars have begun. Play the unblocked 2-player game with your friend, start the competition.
Calculate the direction of the arrow well and give your friend a full hit.
The one who gets the first 5 points wins the game.
It is possible to play the game in 1-2 player or death match mode.
Have a pleasant time!
CONTROLS;
Blue Player: "W" or "Tap the button"
Red Player: "UP ARROW" or "Tab the button"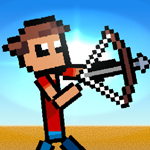 PLAY GAME