Super Mario Riders
Are Mario lovers here? Help mario, who is running to save Princess Peach.
Collect gold coins, jump over obstacles.
Play the first 1-4 episodes for free and unlock other episodes with the gold you collect.
In this unblocked game, which has a total of 24 chapters, you will have enough fun
Let's click and let the fun begin!
CONTROLS;
Tap or click.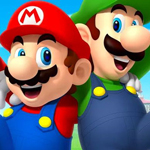 PLAY GAME