Super Penguboy
Have you seen the sweet penguin in the Super Penguboy game?
In this game you will enjoy playing with its colorful designs, all you have to do is collect the golds and stars.
Of course, in the meantime, you need to pay attention to the obstacles and enemies.
You can play the fun game for free and unblocked on our website at school, at home, anywhere.
Good mood!
CONTROLS;
A - Move Left D - Move Right W - Jump J - Jetpack K - Parachute L - Laser Gun - Compatible with Gamepad - Mobile Controls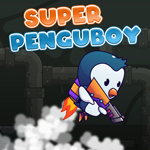 PLAY GAME