Super Pixel
A brand new game with the taste of Super Mario, Donkey Kong and Sonic in the most beloved games of all time, Super Pixel.
The most fun of 2D games.
Jump through the obstacles in front of you, collect the strawberries and finish the levels with a high score.
Start the fun now!
CONTROLS;
Use the left and right arrow keys to move and the Up key to jump. Press up twice for a double jump. Avoid touching the creatures and clear the stages with at least 1 live left. Similar to Mario, you can jump on top of the creatures to eliminate them. Collect as many strawberries as possible for a high score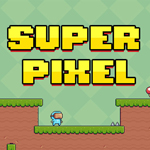 PLAY GAME