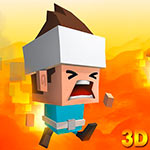 The Floor is Lava 3D
Play The Floor is Lava 3D online and for free on Hihoy. Your goal in this action-packed game is simple, jump into your living room, but remember that the room can turn into hot lava at an unexpected moment! Use hearts to your advantage and keep jumping as long as possible.
Good luck and have fun !


Game controls:
LEFT CLICK