The Pyramid Adventure
The struggle with The Pyramid Adventure begins.
In the 2-Player game you need to cooperate together with your friend.
You must use your weapons and strength in the section full of obstacles, enemies and traps.
Be wary of dangers. You will have a lot of fun in the unblocked adventure game, where each chapter becomes more and more difficult.
If you are ready, let the adventurous journey begin.
Have a pleasant time!
CONTROLS;
Move: "W,A,S,D" Shot: "F" Jump: "W" Switch weapon: "Q"
PLAYER 2 Move: "ARROW KEYS" Grenade "L" Jump: "UP ARROW KEY" Pick Up Box: "K"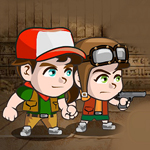 PLAY GAME