The Zombie Dude
Our adventure-loving hero decides to cooperate with the cynical zombie to deal with the evil zombies.
Will this union bring success? Zombie will do the heavy work, and our hero will use his wits.
You have to pass the section in the given time or you will both die.
Play the unblocked 2-player action game with your friends at school, have a fun and exciting time.
Have a lot of adventures!
CONTROLS;
Mocker Zombie: Move: "Arrow Keys" Shot: "L" Carry/Throw the Box: "K" Change Weapon: "U"
Young Adventurer: Move: "W,A,S,D" Shot: "F" Grenade: "G" Change Weapon: "Q"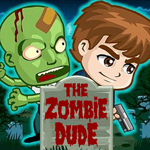 PLAY GAME