Word Search Pictures
A fun way to play word search puzzle using pictures for clues. If you like puzzles, word search puzzles and fun word games, you will like this new word game! Try to find hidden words like in a classic word search game, but this time use photos for clues.
HOW TO PLAY?
Take a look at the photo, then start searching for words. You can touch the picture to take a closer look. Slide your finger in the letter guide to make the word. If you can't find it, use the help button.Have Fun!
Game controls:
LEFT CLICK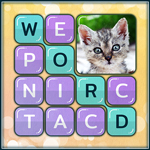 PLAY GAME