Yummy Cupcake
Are you ready to become a cake master?
Start by cleaning the cafe first. Take care of the recycling waste and complete the cake preparations.
Fill the molds with a sufficient amount of dough.
You'll have to do the math for the cooking times.
Your time will be great in this unblocked cooking game,
the stages of which are fun from each other.
Have fun!
CONTROLS;
Use MOUSE to play the game!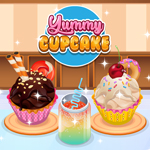 PLAY GAME