Burnin Rubber Crash N Burn
Jump in your car with the game Play Burnin Rubber Crash N Burn,
which you will add to the mess, and pay tribute to everyone who comes in front of you.
Modify your car with weapons. Shoot the vehicles you come across.
Collect the coins around. Speed, action, shooting, it's all in this game.
It will be much more enjoyable to play the unblocked racing game with your friends.
Have fun!
CONTROLS;
[WASD][ARROW KEYS] - Steer [Z] - Fire [X] - Special Steer in 'Aftertouch' mode to create extreme mayhem and rack up even more cash!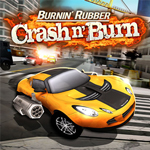 PLAY GAME