Cyber Racer Battles
Cyber Race Battles is out !! And it is even unblocked at schools.
Objective of your game beat your opponents at race by using missiles and the laser gun.
You can compete with a friend of yours or you can play against computer.
This super exciting race game does not include any element of violence and proper for you to play at school.
Good Luck On Your New Adventure.
CONTROLS
PLAYER 1
WASD For Movement
F For Missile
G For Laser Gun
PLAYER 2
Arrow Keys For Movement
O For Missile
P For Laser Gun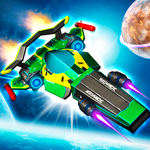 PLAY GAME