Miami Car Stunt
The game where you will enjoy driving on challenging tracks: Miami Car Stunt.
Different tracks are waiting for you in this game.
You can collect coins on difficult tracks and get a new look.
With the 2-Person mode, you can play with your friends at school and have fun hours.
You should definitely try the maze section.
Click here for a fun 2-player unblocked car game.
Let the fun times begin!
CONTROLS;
Player 1 To Move: Arrow Keys Camera Control: Press J, K, L Boost: N Respawn: P Hand Brake: Space
Player 2 To Move: W, A, S, D Camera Control: C, V, B Boost: F Respawn: TAB Hand Brake: Left Shift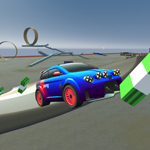 PLAY GAME