Cyber Cars Punk Racing 2
Good news for speed enthusiasts, Cyber Cars Punk Racing 2 is here.
There are more than 5 modes in the game that will blow your mind with amazing graphics, colorful designs in car racing,
and in the last 2 modes you have to escape from crazy cops.
The game is waiting to be clicked for free and unblocked so that you can have lots of fun.
Take your place in this exciting race.
Have fun!
CONTROLS;
Arrows / WASD = drive, Space = hand brake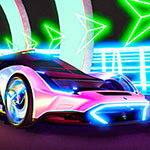 PLAY GAME