Drunken Slap Wars
Another 2-player unblocked game where you can have fun with your friends is Drunken Slam Wars.
The Stickmans slap each other.
To defeat your opponent, you need to hit it with the power indicator at the highest score.
The indicator bar will get faster with each level.
Try the game now where you can laugh at every move of the guys and have fun.
Have fun!
CONTROLS;
"W" and "UP ARROW" or Touch Controls.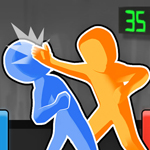 PLAY GAME