We're Impostors: Kill Together
Welcome to the fun puzzle of the game AmongUs.
If you want to become an Impostor, this game is for you.
Pass the sections by managing both the red and blue impostor.
You have to be very careful in the game full of obstacles.
You can make the unblocked amongus puzzle game more fun by playing it together with your friend.
Play it at school or at home.
Have fun!
CONTROLS;
How to play We're Impostors Work Together ✔ Move Red Impostor by arrows and avoid obstacles. Red Impostor must avoid the water while Blue Imposter must avoid the fire. ✔ Let's move close to the crewmate and destroy them. ✔ Use knives to finish off the crew. ✔ Just tap the button "Swap" to change from Red Impostor to Blue Impostor ✔ Collect all diamonds along the way to unlock skins.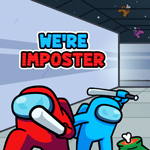 PLAY GAME