Merge Dreams
Alice build your world with the classic characters of wonderland.
In each section, you need to combine at least 3 ingredients to make it bigger.
Cut down the trees, combine the resulting pieces of wood and make a house out of them.
Perform the tasks in the list.
That's how you can grow your world.
Have fun!
CONTROLS;
Drag 1 item onto another 2 identical items to get a higher-level item. Merge 5 identical items to get an extra reward item. Go to the Daily Tasks page to complete tasks to get Gold and experience points every day Go to the Main Tasks page to complete the main tasks to get more Gold and experience points. The more experience points you have, the higher player level you are. The higher the player level you are, the more lands you can unlock.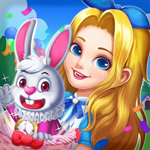 PLAY GAME