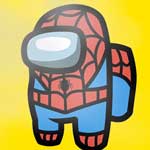 Spider Among Us
In This version of among us character in the games are dressed with superman costume and it makes the game fun for double time.
Your goal in this multiplayer survival game is to create as much chaos as possible.
Assasin your coworkers while their on work.
But you got to be careful dont get caught by anyone in the team otherwise you lose.
Assasin them all one by one and win the game.
Good luck on this super exciting game.
Controls
Arrow Keys For Movement
İmage On The Game For Action