Trollface Quest: Horror 2
You can play second part of Trollface Quest Horror which is full of crazy, mind blowing jokes just free of charge in Hihoy.com. We claim that you didn't play a game before in which you feel so many different emotions together. You are going to come across funny jokes in different places in the game and sometimes you will get in a laugh and sometimes you will scream because of fear. Your job is so hard, you need to try every single way to solve this puzzles. In this free game, to be able to complete the levels , you should succeed to frighten killers, monsters and ghosts. When you don't know what to do, just use the clues in the game. One clue from Hihoy; you may turn into dirty fly. There are lots of horror level that will be solved but the main question is; do you have courage for it?
Good luck and have fun !
Game Controls:
Left Click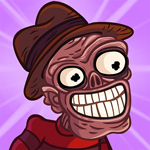 PLAY GAME